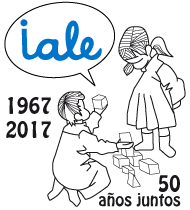 50 years educating great people
On the 2nd of February 1967, a new school opened in L'Eliana with the hope of becoming a model of eduational reference which would anticipate the needs of society.
50 years later, in this academic year, we celebrate that project which has become an example of a school that is ONE STEP AHEAD every year. There is nothing better than for our former students to explain what Iale has represented in their lives.
To know its history, click on the arrows
Bisila Bokoko
Businesswoman and philanthropist
Graduate of 1992
Fran Auñón
Best Student Award UPV 2017
Graduate of 2012
Paloma Móner
Industrial Engineer
Graduate of 2004
Ángel Mínguez
Dentist and university professor
Graduate of 2005
Berta Ferrer
Architect and Designer
Graduate of 2006
Sergio Pérez
Doctor
Graduate of 2007
Javier Albert
TV analyst
Graduate of 2009
Alicia Correa
Marketing and Communication Professional
Graduate of 2009
Belén Meneu
Logistics in the automotive sector
Graduate of 2011
Nacho Cigalat
Businessman
Graduate of 1986
Toni Sánchez
Artist and businessman
Graduate of 1983
Daniel Marí
Marina manager
Graduate of 1994