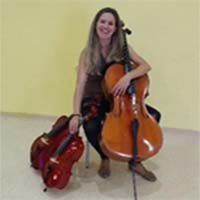 Elian´s British School La Nucia is to become the first school in the area to introduce music teaching to very young children using the Gabou and Suzuki methods.
The Gabou Method of teaching is suitable for children around three years old. It introduces music practice by encouraging groups of children to interact playfully with rhythms and tunes alongside their parents and teachers.
(Verónica Rubio Violoncello music teacher)
The Suzuki Method is suitable for children from the age of three. Using the method, children learn how to play a musical instrument in the same way they learn to speak: by repeating musical phrases that become gradually more complex.
At Elian´s British School La Nucia, we have included tuition in the violin and ´cello in the general curriculum for all our Year 2 children.
Younger children are being offered weekly half-hour sessions of instrument learning as an extra-curricular activity.
Several parents listened to Jose Manuel Borrego, Head teacher in Iale-Elian´s School of Music, and Veronica Rubio, Violoncello music teacher, from the Music School at IALE, Valencia explaining the benefits of these teaching methods at a meeting held on Thursday, September 21st.
We are delighted so many have already chosen to sign up for the new classes. We fully intend to continue developing the musical education available at Elian´s British School La Nucia and we are greatly looking forward to seeing our youngest musicians play to us at our school concerts.
If you would like more information about the new classes, please contact the School of Music cpmusicaiale@elians.com or Iale 962 74 13 19.
29 Sep, 2017
Posted by Noelia de la Flor
1 Tags
0 Comments